eChecksPro will help you get and keep more customers,
increase your revenue and outpace the competition.

DFS has created the industry's first web-based check delivery system which simply means you can expand your portfolio and boost your profitability by offering eChecksPro to all your customers and prospects.
With DFS eChecksPro, your customers can create and send payments to anyone from anywhere via the Internet.
They're fast, easy, cost-effective and secure
They require no additional software or hardware investments
They give your customers more financial flexibility and control and are a smart supplement to paper checks
Best of all, they provide you with a new revenue stream and give you an excellent way to attract and retain customers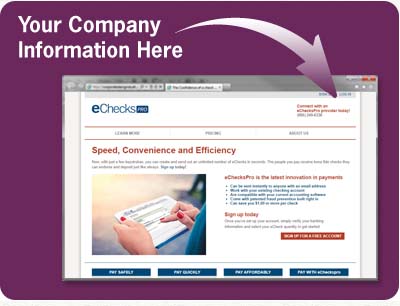 Your Personalized Website:
No Set-Up. No Maintenance.
Easy To Promote.
It's easy to start selling eChecksPro online. Simply click sign up, complete form and DFS will set up a personalized website for you at no charge.

Then simply send your customers to this online storefront, where they'll learn more about eChecks features and benefits. Once they're ready to order, they can click through to your sign up page to register, create accounts and order their eChecks.

Best of all, you'll get a commission check for the orders placed on your personalized website — and it all happens without adding to your current workload.

There's no easier way to cash in on the latest check technology.